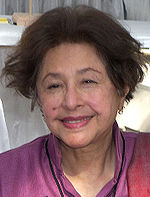 Distinguished international writer Bapsi Sidhwa lives in Houston Texas. Her novels: An American Brat, Cracking India, The Pakistani Bride, The Crow Eaters and Water have been published in several European and Asian languages. She has also compiled and edited Beloved City: Writings on Lahore [titled City of Sin and Splendor in India]. Among her many honors Sidhwa received the Bunting Fellowship at Radcliffe/Harvard, the Lila Wallace-Reader's Digest Writer's Award, the Sitara-i-Imtiaz, Pakistan's highest national honor in the arts, and most recently the Italian Premio Mondello 2007 and the 2008 South Asian Excellence Award for Literature. Sidhwa, who was on the advisory committee to Prime Minister Benazir Bhutto on Women's Development has taught at Columbia U, Mount Holyoke College, Brandeis, and Southampton University in England. Cracking India (a New York Times Notable Book of the Year and a Quality Paperback Book Club selection), was made into the film Earth by Canadian director Deepa Mehta. Her latest novel Water is based on Metha's film of the same name. Her hugely successful play, An American Brat had a long run at Stages Repertory Theater in Houston last year.
Author Interview
1. You are a prolific and renowned writer, having authored 5 books. How do you stay disciplined and what is your writing routine like?
Unfortunately I am not a disciplined writer and I don't have a routine. I write when I have a chunk of time and I'm in the mood. Both are difficult to come by these days – too much in my life appears to interfere with the writing. When I'm working on a novel, and in its grip, I may write for hours at a stretch and not notice the time. I can stop writing for months when family needs require me to or or blithely give up when travel and holidays intervene; fortunately I can pick it up where I left off. Everything in my life – children, husband's obligations, health matters – seems to have precedence over my writing. I find I can't write in isolation – I need to have life around me – I think every author needs the sense of involvement.
2. The theme of partition strings together most of your work? Why is that subject so close to your heart? What is your own memory of the time?
The Partition of India was a defining moment in our history and it affected millions of lives for years in its aftermath – mine included. The Partition is central to the narrative in my third novel Cracking India. It makes a brief appearance in Pakistani Bride, and is barely mentioned in Crow Eaters. The roar of the mobs appeared to be a constant in my life; even as a 7 year old I knew it was an evil that threatened our lives. I couldn't make out the words although I vaguely realized they were shouting religious slogans as they set fire to houses and harmed people. The memory of smoke and fire and fear and the sudden appearance of hoards of bedraggled refugees in my neighborhood are still vivid.
3. What has been the enjoyable part of your writing career? The awards, the fan base, and the people you have met along the way or something else?
The act of writing, of being immersed in a novel and knowing intuitively that it is unfolding as it should, this shifts me into a dimension of sustained transport, a high; it is like being in a constant state of meditation. Of course the awards are a much needed validation, and nothing validates an authors endeavors like the revelation of a fan-base. My readers and their remarks energize me. When they talk about my books I feel an intimacy, a very satisfying feeling of having shared myself with friends. I have met some wonderful writers along the way and made lasting friendships that I cherish.
4. Your path to publishing was not easy and riddled with hurdles. What advice would you give to a new writer?
You have to keep writing and trying to get published. It is a very frustrating process as I discovered. In Pakistan I self published The Crow Eaters before it was picked up by Jonathan Cape in England. If along the way you discover you are not a good writer, shift gears and go into a field which will give you more satisfaction.
5. What's next for you? Are you working on a project that you would like to talk about?
I have a collection of essays almost readied and a collection of short stories that requires a spurt of physical and creative energy and creative.
Link to the author
Website