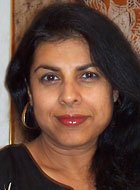 Chitra Banerjee Divakaruni is an award-winning author and poet. Her themes include women, immigration, the South Asian experience, history, myth, magic and celebrating diversity. She writes both for adults and children. Her books have been translated into 20 languages, including Dutch, Hebrew, Russian and Japanese. Two novels, The Mistress of Spices and Sister of My Heart, have been made into films. Her short stories, Arranged Marriage, won an American Book Award. She teaches Creative Writing at the University of Houston. For more information, check www.chitradivakaruni.com
Author Interview
In your writing, folklore, ancient traditions, culture, cuisine, political conflict, and religious beliefs are weaved into delicate language that explores the immigrant experience. Did you always know what focus your writing was going to take or was it a natural occurrence? Also do you have a personal favorite piece of work?
The focus of my work changes a little from book to book. When I started writing, I wasn't sure what I would write about, apart from the immigrant experience, which has always fascinated me. My work in the area of domestic violence led me to focus on strong women characters. I am getting more and more interested in depicting the spiritual search, as in The Palace of Illusions, my latest novel, and my current favorite.
How was your own immigrant experience like and how much of that do we see in your writing? When did you move to US? In your opinion, what are some of the challenges facing the immigrant Indian community in the US? In your writing, is you intent to solve or bring awareness to some of those issues?
My work is not very biographical (my life is intentionally fairly quiet). I moved to the US for graduate studies when I was quite young. A couple of challenges are: when we move, it shakes up our sense of self and family–and sometimes this leads to conflicts within the family, and often inter-generational communication break down. Also, when you are a visual minority, you can become the target of racist attacks. Yes, in my novels such as Mistress of Spices and my stories Arranged Marriage, I try to bring awareness to these issues.
You have ventured into writing for children lately. How has that experience been so far? Tell us a bit about Shadowland.
I love writing for children. On my blog, Amazing Things, I've written the whole story of how I came to write Shadowland. See the entry. My three children's novels––The Conch Bearer, The Mirror of Fire and Deaming, and Shadowland––are all magical adventures set in India, with Indian characters. Here's a synopsis of Shadowland:

In

Shadowland

, the hero of the

Brotherhood of the Conch

series, now fifteen, is settling back into his life as an apprentice in the lush Silver Valley, nestled high in the Himalayas. There he continues to learn the secret arts of the Brotherhood. But suddenly his adopted home is reduced to a barren wasteland when his beloved conch, the valley's source of magical energy, is stolen by an unknown force. Together with his friend Nisha, Anand embarks on what may be his most dangerous mission—traveling to the cold and forbidding world of Shadowland in his attempt to restore the conch to its rightful place, and his home to its original splendor.
What is your writing routine? Tell us about a day in the life of Chitra Banerjee Divakaruni. You have recently started experimenting with social networking and using Facebook and your blog to connect with your fan base. How has the response been so far?
As I said, my life is rather quiet and simple. I take the children to school, meditate, and either go to teach at the University of Houston, or go to my writing desk to write. I like taking my dog on long walks. I cook for my family. I read as much as I can. I love fantasy and Sci fi movies. I have a Facebook author page that gives me an opportunity to meet many readers and answer their questions. I enjoy my blog, too–it's a fun way to write about different things that interest me, and it's very relaxing.
What's next for you? Where do you see yourself ten years from now? What do you hope to have accomplished?
I'm working on my new novel, One Amazing Thing, about a group of people trapped in an Indian visa office in CA by an earthquake. 10 years later, I hope to be doing much of the same thing (because I love what I do)–writing, teaching, connecting with family, meditating, doing some social activism, going for long nature walks–except that I hope to do them more wisely!
Thanks Shaila for having me on your blog. Great success to you!