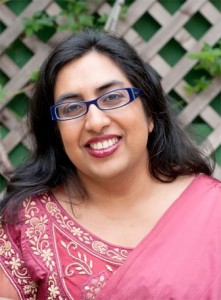 Minal Hajratwala is a writer, performer, poet, and queer activist based in San Francisco, where she was born before being whisked off to be raised in New Zealand and suburban Michigan. She is the author of Leaving India: My Family's Journey From Five Villages to Five Continents (Houghton Mifflin Harcourt, March 2009). She spent seven years researching and writing the book, traveling the world to interview more than seventy-five members of her extended family. Her creative work has appeared in numerous journals, anthologies, and theater spaces, and has received recognition and support from the Sundance Institute, the Hedgebrook writing retreat for women, the Jon Sims Center for the Arts, and the SerpentSource Foundation. Her one-woman show, "Avatars: Gods for a New Millennium," was commissioned by the Asian Art Museum of San Francisco in 1999. She was an editor and reporter for eight years at the San Jose Mercury News, and was a National Arts Journalism Program fellow at Columbia University's Graduate School of Journalism in 2000-01. She is a graduate of Stanford University.
What compelled you to write a story about your own family in Leaving India?
In our families, migration stories are often told as very personal: "Your great-grandfather wanted to go to Fiji, so he went." "Your father decided to come here to study." But of course there must be huge social and economic and political factors at work, to make people suddenly uproot themselves and migrate. There are reasons that certain borders were open or closed to Indians at different periods in history. So I set out to understand how these larger forces of history intersected with individual lives. I wanted to understand not only why my family was in the United States, but also why I have thirty-six first cousins who live all over the world, why my grandparents and great-parents left India, and how our diaspora grew – from fewer than 400,000 people living outside India a century ago, to an estimated 19 million to 30 million people living in diaspora today. All of those questions are connected, and in the answers are connected too.
Tell us about your experience as an Indian-American in the United States?
I grew up in a very white community in suburban Michigan, and when we said we were "Indian," people asked us, "What tribe?" Really. And if you saw me, you'd know I don't look Native American at all, but that was the level at which they could relate to that word "Indian." As a result, I grew up feeling sort of isolated and alienated from my ethnic identity.
Today you see Bollywood and yoga and meditation everywhere, and large South Asian communities all over the country. Obviously something had happened to cause this population surge, and in writing the book I wanted to learn about that demographic shift, not just on a historical level, but what that means in our actual lives.
How did you find your voice as a writer? How has the journey been for you from an editor, performer, activist, to an author? How do all those roles translate into your writing?
I was lucky to have a lot of support and sense of community as a writer, although it took me a while to realize that I needed it. When I was able to work at my best, it was through learning about my own habits and learning when to ask for help. Probably the most important thing that I did in my "journey" was that I created "retreats" for myself, weeks at a time where I did not answer the phone, look at email, or socialize very much. Overall I became very intimate with my own ways of distracting myself, and then I worked to eliminate those distractions. I did not read newspapers, I did not have a television, and I even had a period of two or three years where I got rid of my home internet service; I went to a cybercafé once a week to check my email, which was much more efficient.
At the same time I did not let myself feel isolated. I was able to find and be part of an amazing writing community: I had people to write with, a group to share work in progress with, a series of excellent writing coaches, a somatic bodyworker, a couple of meditation groups, a very supportive partner – all kinds of help. I did yoga and took walks. I worked very hard on the "inner critic" voices that tended to slow me down. I also got a cat, who was great company and also tried to help out by typing. (Unfortunately he's not very good at it.)
Everything that I had learned about myself and my writing, as a poet, editor, performer, activist, lover, meditation student—that is, every aspect of my life thus far—fed into the book in someway and has been incredibly useful, and continues to help me even now in the process of putting the book out into the world.
How was the path to publishing for you? Can you give the readers a brief overview of your journey?
I had been a journalist for eight years, then I wrote a book proposal in a seminar I took while I was a fellow at the Columbia University Graduate School of Journalism in early 2001. I submitted the proposal to a few agents, then signed with my agent, who sold the book to Houghton Mifflin Harcourt.
What do you think is the biggest issue facing the American-Indian community in the United States today?
I think it is very important for Indo-Americans to realize that there is tremendous diversity within our community and to act, vote, work, and build social relationships in solidarity with other people of color of all social classes in the United States.
In the United States there's this common idea that Indians are smart, good at math, wealthy, engineers or doctors, professionally successful and hard-working, etc.—that we are somehow "better" than other people who have come to the United States But of course, that's based on a very particular slice of Indians who were allowed to immigrate to the United States right after 1965 precisely because they fit certain educational and professional qualifications. That was my parents' generation, the so-called "brain drain" group. If you look at a bigger selection of Indians, either over time or globally, it's obvious that there is nothing genetic about it, and we're everything: smart and foolish, rich and poor, hard-working and slackers, practicing every profession under the sun and then some. How much more wonderful and liberating it is to have the full range of human experience available to us. A lot of Indo-Americans buy into the "model minority" stereotype, because who wouldn't want to be smarter and savvier than everyone else? But I feel just as allied with the contract laborer in Kuwait or the cousin who can't get a visa to leave India, as well as the Mexican American farmworker, as with the Silicon Valley internet millionaire.
Would you continue to write nonfiction or do you have other plans in mind?
I have several project ideas in various genres, so we'll see which one comes to fruition first.
Visit the author's website
Author's Facebook page
Buy Leaving India: My Family's Journey From Five Villages to Five Continents