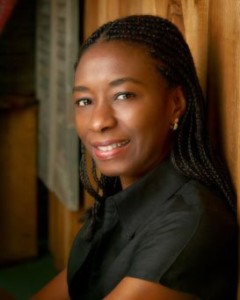 Sefi Atta was born in Lagos, Nigeria. She trained as an accountant in London and began to write while working in New York. Her works have won prizes from Zoetrope, Red Hen Press, the BBC and PEN International. In 2006 she was short listed for the Caine Prize for African Literature and her debut novel, Everything Good Will Come was awarded the Wole Soyinka Prize for Literature in Africa. It is published and forthcoming in twelve countries to date. Her second novel Swallow and short story collection Lawless were published in Nigeria in 2008. Lawless is forthcoming in the U.K. as News From Home.
1. What do you think is the future of Nigerian literature in English in the United States?
Nigerian literature in the United States has for the most part substantiated the impressions Americans already have about Africa. We have had stories about political instability, war, poverty and disease. They are necessary stories, but they are not the only stories of Africa. I think we will see more and more literature that challenges the restricted American view of Africa from now on—hopefully, without aiming to.
2. Tell us about your experience as a Nigerian-American in the United States? How did you find your voice as a writer? What converted you from a CPA to an author?
My experience has shown me that the literary marketplace in the United States is not yet mature enough to accommodate African writers in general without trying to limit our expression, and this has an impact on the stories we choose to tell and how we tell them.
There is a lot of patronizing going on, with people expecting you to fulfill their fantasies of Africa. Sometimes they even expect you to live up to their expectations of what an African writer should be like and they can turn on you in these so-called liberal literary circles. They might think you're uppity if you're not willing to be patronized, so I don't blame African writers who play the game. This is a tough business to be in and even when African writers make staggering progress, we only get so far. In the United States, the most popular stories set in Africa are The No.1 Ladies Detective series by Alexander McCall-Smith.
I was lucky to find an independent publisher who never interfered with my voice. After my first novel, Everything Good, I experimented with voices. I wrote my second novel Swallow in the voices of a Nigerian woman who speaks English as a second language and her mother, who does not speak English at all. My third book Lawless is a collection of short stories. I wrote them in so many different voices, including male and children's voices.
Experimenting with voices restricted me sometimes and other times it was freeing, but it was important for me to challenge myself that way. Now, I write in the voice I am most comfortable with, that of an educated Nigerian woman.
I moved to the United States in 1994 with my husband, who trained as a doctor in Nigeria. I met him in Nigeria and we lived in England for a while. I was educated in England and trained as a chartered accountant there. I was not interested in numbers, but it was the only way I could get a work permit. I started writing in the United States while I was working as a CPA. In 1997, we moved from New Jersey to Mississippi and I was no longer allowed to work under the terms of my husband's work permit. We had a three year old daughter and everyone kept telling me to use the opportunity to have more children, but I wrote a novel and went back to school to get myself an MFA.
3. How was the path to publishing for you? Can you give the readers a brief overview of your journey?
It was hard. I was lucky to find an agent the day before we moved from New Jersey to Mississippi, July 1, 1997. I had a reading at a Barnes and Noble bookstore in New York and she just walked up to me. I started writing Everything Good the next day. We had no furniture, but I plugged in my computer and wrote the first line, which I subsequently changed. Seven years later, the novel was published and it had been through several title changes. My editor came up with the final title. I just could not name that novel.
4. How do you think readers would relate to the character of Enitan Taiwo in Everything Good will Come? Give us a glimpse of the enduring friendship of Enitan and Sheri? What message are you wanting to convey through these characters' lives?
When the book first came out in Nigeria, readers related to both characters so much that a few disapproved of Enitan as if she were a real person. They were my harshest and loudest critics, especially the goons who got on the Internet to abuse her, the book and me. They put me off reading reviews, but it is just as well. For me, it is important that Nigerian readers especially relate to my characters, but I don't find it useful to monitor their censure or praise, especially while I am writing.
Sheri and Enitan are just two Nigerian women who are trying to find ways to navigate the society they are in. Enitan is clumsily confrontational and in some ways more vulnerable. Sheri is more shrewd and manipulative. When one is weak, the other is strong. I'm not sure what message I wanted to convey, but they are based on Nigerian women I know. That's basically what I do: I take real life experiences and put them together in a way that resembles fiction.
5. What is next for you? Are there more books in you?
I have been writing for twelve years now. I have published three books and I have three more in the pipeline. I have drafted them to a point that I can confidently say yes, there is a story in here, but I have a lot of revision to do. The Age of Widows is a thoroughly modern Nigerian story. The Bead Collector I have never spoken about. It is controversial and has a strong political content. The Far Removed is my American book and the one that needs the most revision, apparently. But revision is the stage of writing I love most. Writing the first draft is dreadful and I have to isolate myself to get through it. I ignored everything else to get all three drafts out of the way. It took me years and I won't recommend that to any writer, but I am embarrassingly pragmatic. I knew I had to write the books and figured I should get the unpleasant work out of the way before my daughter starts high school next year, when I have to be more vigilant and patient. I also want to spend more time with my husband and enjoy his company—now that our daughter has less time for us and we're still able to rock. You know, we women writers have to be creative with our families as well.
I tell my family I will stop writing after I have published these books and they laugh because they don't believe me. I mean it though. I am very thankful to have had the opportunity to write for so long, but I want to channel all that energy I have in another direction. I was not interested in numbers and I became an accountant. I had no idea if I would be any good with words and now I'm a published writer. So who knows where my next phase in life will lead me? Perhaps I will end up doing something that allows me to combine my business and writing experiences. We'll see.
Author's Facebook page
Visit the author's website
Buy the author's books