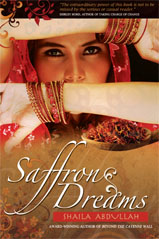 I am happy to announce that, Saffron Dreams, my new novel is due to be released in February of 2009 by Modern History Press. View the website for more details.
Here is a brief description of Saffron Dreams.
You don't know you're a misfit until you are marked as an outcast.
From the darkest hour of American history emerges a mesmerizing tale of tender love, a life interrupted, and faith recovered. Arissa Illahi, a Muslim artist and writer, discovers in a single moment that no matter how carefully you map your life, it is life itself that chooses your destiny. After her husband's death in the collapse of the World Trade Center, the discovery of his manuscript marks Arissa's reconnection to life. Her unborn son and the unfinished novel fuse in her mind into one life-defining project that becomes, at once, the struggle for her emotional survival and the redemption of her race. Saffron Dreams is a novel about our ever evolving identities and the events and places that shape them. It reminds us that in the midst of tragedy, our dreams can become a lasting legacy.