Kamila Shamsie is the author of five novels, including Kartography, Broken Verses and Burnt Shadows, which have publishers in 19 countries. Three of her novels have received awards from the Pakistan Academy of Letters and she has been shortlisted for the Liberaturpreis (Germany), twice for the John Llewellyn Rhys award (U.K). She has written for various publications including The Guardian, Prospect, New Statesman, TLS, The Telegraph (all U.K), DAWN and Newsline (Pakistan), The Daily Star (Bangladesh) and the New York Times (U.S), and is on the editorial board of the Index on Censorship. She has been a judge for the Orange Award for New Writing, the Guardian First Book Award, the Geoffrey Faber Memorial Award and the Australia-Asia Literature Award. She grew up in Karachi, went to university in America and now lives in London. Burnt Shadows is shortlisted for the 2009 Orange Prize for Fiction.
Author Interview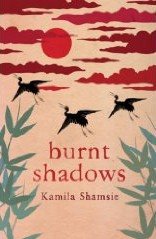 You have been writing for a long time. How would you describe the evolution of your style? What benefit did you get from being around a family of writers? Of all of your works, which one is the dearest to your heart?
I'm the last person you should ask about the evolution of my style – aren't writers notoriously poor at analysing their own work? For me each novel brings its particular set of stylistic demands – with Burnt Shadows' for instance, because I was going to cover 60 years and 5 countries I knew I needed a more pared down style than in my earlier works.
Being around a family of writers means that I grew up encouraged to read, and surrounded by the notion that books mattered and should be taken seriously. And also, of course, that I had the idea that writing was simply something that people DID….so it never felt unusual that I was writing fiction in my free time all the way through my adolescence. I've always found that the novel I'm writing or have just finished is the one dearest to my heart, because that's the one I feel most engaged with. So right now it's Burnt Shadows. As soon as I get to work on the next novel, that will change.
What do you make of the rising interest in Pakistani writing in English today?
I'm primarily interested in the writing itself, rather than the interest in it – and I think the work is wonderful. Nadeem Aslam, Uzma Aslam Khan, Aamer Hussein, Mohammad Hanif, Mohsin Hamid and Daniyal Mueenuddin : that's an extraordinary group of writers. So it is a very exciting moment for Pakistani writing in English. But the interest in it is unfortunately tied up in the world's terror about what's going on in Pakistan politically – and, of course, I wish that we didn't have that situation.
Being on the shortlist for the Orange Fiction Prize is a great honor. How would you rate the competition?
I haven't yet read the other books on the shortlist – but to think of someone like Marilynne Robinson as 'competition' is ludicrous. Her first novel Housekeeping is one of the finest novels of the 20th century. So I'm just enjoying the fact that I get to be in her company on this list.
Describe a day in the life of Kamila Shamsie. What is next for you?
Well, it depends on whether I'm writing or not. When I'm writing a typical day is – wake up, read the newspaper while have a morning cup of tea/coffee, then sit at my desk and start writing. Afternoons my brain shuts off so I might meet a friend for lunch, or go to the gym or read or waste time surfing the web…in the evenings, on a good day, I'll do another 2-3 hours of work. And then I'll often go out in the evenings with friends, though some days I just stay in, watch tv, read some more….and so the day goes.
The last few months I've been caught up in doing publicity for the book – it started in Pakistan in February, and I've just finished a US/Canada tour and have a two month break before going to Ireland and Australia in August, followed by Germany in September and so on…. so there's no proper routine these days.
What advice do you have for aspiring authors, especially Pakistani writers?
Write.
That sounds facetious, I know, but it's amazing to me how many people say they'll write a novel 'one day,' or who get caught up in wanting to know about agents and publishers before they've written a book. Anyone who is serious about writing needs to make time to write – now, not in some abstract future. And just concentrate on writing the best book you can before worrying about how to get it published, or how it'll be reviewed etc.

Links
Read an excerpt of Burnt Shadows
Buy Burnt Shadows
About the author