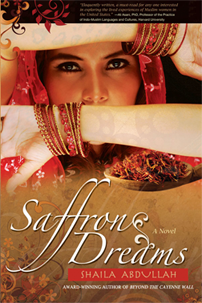 Publisher: MODERN HISTORY PRESS
ISBN 978-1-932690-73-6 PAPERBACK
ISBN 978-1-932690-72-9 HARDCOVER
ISBN 978-1-61599-210-2 EBOOK
Book Description
You don't know you're a misfit until you are marked as an outcast.
From the darkest hour of American history emerges a mesmerizing tale of tender love, a life interrupted, and faith recovered. Arissa Illahi, a Muslim artist and writer, discovers in a single moment that no matter how carefully you map your life, it is life itself that chooses your destiny. After her husband's death in the collapse of the World Trade Center, the discovery of his manuscript marks Arissa's reconnection to life. Her unborn son and the unfinished novel fuse in her mind into one life-defining project that becomes, at once, the struggle for her emotional survival and the redemption of her race. Saffron Dreams is a novel about our ever evolving identities and the events and places that shape them. It reminds us that in the midst of tragedy, our dreams can become a lasting legacy.

Book Video

Course Study, Papers and Studies
Several academic institutions have adopted Saffron Dreams as course study or recommended reading, such as University of California, the University of Nebraska-Lincoln, Indiana University, Boston University, Indiana University, California State University, and George Washington University among others. View a list of universities teaching Saffron Dreams. View an online reading guide. The work has also been used as a basis for several presentations and papers. In early 2014, a research team from Washington and Lee University conducted a study in which they found that reading a 3,000-word extract from Saffron Dreams can make you less racist. Read the remarkable findings at Pacific Standard and Bustle.

Awards
Patras Bukhari Award for English Language
Golden Quill Award
Kickstart Guy Book of the Year Award
Written Art Award 2010 (General Fiction category)
Dream Grant from Hobson Foundation

Lists

Reviews
"In this insightful, intimate narrative, Pakistani-born Arissa Illahi moves to New York City to be with her husband, who had taken a job at the World Trade Center's Windows on the World restaurant to allow time for completing his novel. He perishes when the towers collapse, and Arissa nearly crumples herself as she struggles with tremendous grief, a troublesome pregnancy, and the various trials she faces as a Muslim when others ignorantly associate her with the terrorists. Abdullah excels at examining the complexity of moving on after this historical event, especially from Arissa's unique perspective as a writer and artist struggling to rear a child with special needs. But this debut novel deals with more than just survival in the aftermath of 9/11, also examining the nature of motherhood by juxtaposing Arissa's supportive mother-in-law and less than maternal mother. Like Abdullah's story collection, Beyond the Cayenne Wall, this work provides a remarkable, inevitably hopeful glimpse into the daily life of Muslim woman living in America. Highly recommended." Read online
—Faye A. Chadwell, Library Journal
"What really struck me about Saffron Dreams is that the 9/11 attacks aren't the only serious subject addressed in this small novel. Abdullah manages to talk about racism, fundamentalism, widowhood, culture clashes, and the challenges of raising a child with disabilities within its pages. Abdullah's writing is crisp, sharp and clear. She does not mince words; her writing is very precise, each word chosen carefully. In the end, the message I took away from the novel is that what we, as citizens of this earth, have in common is much greater than all those differences than set us apart from one another. We must look to our common humanity to bring us together. This is a message full of hope and love, much like Saffron Dreams itself. I thoroughly enjoyed Saffron Dreams and recommend it to anyone interested in multicultural fiction – it's a great read and you won't be disappointed." Read full review
—Swapna Krishna, S. Krishna's Books
"This is a quiet book about loss and grief, about hope and commitment, about cultural differences, and about our common humanity. It is, above all, a success story in the sense that living, in spite of all its difficulties, is a worthy challenge. The author manages to tell this tale with such a delicate touch, never falling into the maudlin and never giving Arissa the powers of a superhero. A beautifully written narrative that looks at the aftermath of September 11 with a slightly different perspective, the book unfolds and blossoms with an unexpected tenderness while never denying the myriad effects of tragedy." Read full review
—Jenclair, Book Blog: A Garden Carried in the Pocket
"If ever there was a book more eloquently written than Saffron Dreams, I would like to see it. The words simply fly off the page and float into your consciousness; their power touching you in a way like no other book might ever touch you again. The struggles of being a 9/11 widow and a Muslim, come together in a moving story that will find you filled with every emotion ever experienced by a human being. Abdullah's masterful storytelling draws you in from the very first moment and does not release you until you've turned the very last page. Anyone who has ever loved and lost will be touched by this heartrending, yet triumphant story of one woman's difficult journey to pick up the pieces of her shattered life in a country that has suddenly put her and an entire race under a microscope in order to make sense of a monumental tragedy. The descriptions and details put you right alongside Arissa so that you are totally captivated by her world, her dreams, her struggles, and her triumphs." Read full review
—Cheryl C. Malandrinos, Book Blog: The Book Connection
"There are books that are beautiful simply because they are so positive and pleasant. And there are those that manage to be beautiful in spite of the pain and the suffering and the heartbreak contained within. Shaila Abdullah's Saffron Dreams is both. Her writing is mesmerizing. On one hand it feels like a classically cut diamond – precise, sparkling, blindingly beautiful, but also incredibly sharp. On the other hand her writing reminds me of a dish I've often had traveling in India – a thali…It was comforting, it was funny, it was spicy; and then heartbreaking, full of despair, filled with hope, amazingly fresh and vibrant and satisfying. Following Arissa's story makes the reader realize how little most of us know and understand the world of Muslims, and how incredibly wrong so many of our perceptions are." Read full review
—Olivera Baumgartner-Jackson, Reader Views
"Saffron Dreams addresses many serious problems (death of a loved one, prejudice, cultural differences, caring for a child with disabilities, and more), but in such a manner that allows us to see the ways human beings triumph over circumstances wrenched from their control and gradually find ways to re-adjust their dreams and move forward. A beautifully written narrative that looks at the aftermath of Sept. 11 with a slightly different perspective, the book unfolds and blossoms with an unexpected tenderness while never denying the myriad effects of tragedy."Read full review
—Jenclair, A Garden Carried in the Pocket
"A much-needed perspective in the void of the American Muslim experience, Saffron Dreams is an unflinching look at the societal pressures of widowhood, the role that art can play in the healing process, and the impact of media bias and stereotyping on the Muslim American community in the aftermath of the 2001 terrorist attacks." Read full review
—Sandhya Nankani, Literary Safari
"I recommend this book to anyone who would like to learn more about what it would have been like to be a Muslim after the bombing of the World Trade Center." Read full review
—Alyce Reese, At Home With Books
" I really enjoyed Saffron Dreams. In its pages I found a character to care about, a story to enjoy, and issues to think about.  Highly recommended." Read full review
—Medieval Bookworm
"A mesmerizing story about one woman's struggle to rebuild her life after devastating loss. Not to be missed. (5/5)." Read full review
—NotNessie, Today's Adventure
"Shaila Abdullah has written a beautiful and inspiring story about a Muslim-American young woman caught in the horrific web of tragedy of 9/11′s World Trade Center disaster.   I had to keep reminding myself that it was a novel and not a memoir…looking back again and again at the gorgeous cover and searching the eyes of the beautiful Pakistani woman for clues of the inner soul of such a writer. It is a gorgeous and poetic book with an abundance of truth and beauty for everyone who loves fine literature. " Read full review
—D. Previte, Bookish Dame
"What really struck me about Abdullah's writing is that after a while you forget about the character's religion and relate to her as a human being. As I read some of the bleakest parts of the novel, I was unable to remain dry-eyed and chances are it will have the same impact on many other readers, which in itself speaks volumes of its success." Read full review
—Marylou Andrew, Dawn Newspaper
Poetic and moving, the story of Arissa Illahi's heartbreak and strength comes alive in Shaila Abdullah's Saffron Dreams. This novel is written in a memoir style, taking you deep in to Arissa's heartbreak and inner struggles. I was moved to tears several times during this book, my heart ached for Arissa and I also found myself cheering her on as she and her son found their footing and moved through their lives, never forgetting who they are: Wife, Mother, Daughter, Son, Pakistani, American and Muslim. Shaila Abdullah's "Saffron Dreams" is a must read."Read full review
—Revenge of the Book Nerds
"Shaila Abdullah's Saffron Dreams is a fascinating look at how events can quickly change a life forever. One focus I found interesting was looking at the tragedy of 9/11 through the eyes of an American immigrant….The thread of Muslim beliefs in a modern world, and especially how women balance ancient and modern traditions, is a fresh, different viewpoint. Finally, the self-affirmation that we can handle whatever life throws at us is valuable."
—Sandie Kirkland, RebeccasReads
"I approached this book with a touch of apprehension, although I was at the same time optimistic, having read positive reviews for Saffron Dreams beforehand. You'd think that a book about a young woman who loses her husband in that tragedy would be morose and depressing, but instead this story is engrossing and life-affirming. Once I picked it up I couldn't stop reading it. More than anything else, Saffron Dreams is a beautiful love story, a love which endures and lives on, and grows even stronger as time passes." Read full review online
—Susan Ortlieb, Suko's Notebook
"Saffron Dreams is more than just an emotional journey of perseverance amid the most trying circumstances and tragic events, it is an evolution of one Muslim woman into a whole self, strong enough to stand alone and blossom." Read full review
—Savvy Verse and Wit
"Saffron Dreams is a journey of a young widow away from her homeland and in a country she has adopted. It's a delicate subject and a book that handles a lot of sensitive issues without wanting to create a sensation. The writing was so raw and honest that I could feel Arissa's pain seeping through the pages." Read full review online
—Eliza Scott, Violet Crush
"A beautifully descriptive novel: full of color and flavor. A fascinating tale of love and loss, tragedy and triumph, and following your dreams even when they take you on an unexpected journey." Read full review
—Holly, Book Blog: 2 Kids
"This book is simply stunning. I don't think I've ever read a book with the depth and eloquency of Saffron Dreams. Shaila Abdullah spins a story so beautifully that each sentence is like the richest of desserts. Her storytelling skills are unsurpassed and I can't wait to see what she writes next." Read full review
—Marta, Marta's Meanderings
"Saffron Dreams is such a moving book.  In its pages I found a character to care about, a story to enjoy, and issues to think about.  Highly recommended." Read full review
—Medieval Bookworm
"I loved that this examined both the difficulties of being Muslim in post-9/11 America as well as the pain of losing a loved one on 9/11, and all in the guise of one character.  Recommended." Read full review
—Devourer of Books
"This book was full of contradictory responses for me. The topic was a step outside of my comfort zone and yet the characters were completely comforting to me. The story was tender and it was powerful. It tugged at my heart and it packed a punch. It was just an extraordinary story, in my humble opinion."
—Lost in Books
"Saffron Dreams by Shaila Abdullah is a novel that reads as if it is a genuine autobiography.  You cannot help but feel that this is the story of someone genuinely caught up in 9/11, an innocent and haphazard victim. I enjoyed the way this story weaves back and forth, filling bits of the canvas until at the very end of the book you have worked through it all with Arissa, have come to terms.  It also reminds us that whether moslem, christian, non-believers or whatever, all were caught up in this and there was no pity for any of the victims, whatever their religion or background story." Read full review
—51 stories
Endorsements
"Set in post-9/11 America, Saffron Dreams tells the moving story of Arissa Illahi, a Muslim Pakistani-American, as she struggles to fulfill her different roles as daughter, wife and mother, confronting conflicting cultural expectations and Islamophobia. Eloquently written, a must-read for any one interested in exploring the lived experiences of Muslim women in the United States."
—Dr. Ali Asani, Professor of the Practice of Indo-Muslim Languages and Cultures, Harvard University
"Saffron Dreams is an intimate portrait of a young Pakistani widow in New York coping with the transformation of her life and identity wrought by 9/11. Grief, memory, dreams, and relationships dance sensuously in her awareness alongside the rich flavors, aromas, and colors of her domestic reality, as Abdullah skillfully draws us in for a closer view."
—Stephanie Gunning, coauthor of Will Power and Creating Your Birth Plan

"A poignant story that affirms the redemptive power of storytelling. Abdullah gracefully maneuvers between sentiment and domesticity rewarding us with her insight."
—Sefi Atta, award-winning author of Everything Good Will Come
"In this engrossing and beautifully written novel, the author shows how additional losses can actually strengthen and provide a sense of meaning and purpose. The birth of a child with severe disabilities, in contrast to the devastating loss of a spouse, can come to be a positive experience by enabling us to see the beauty in creation that is sometimes missed in the glow of perfection.  This is not a story of happy but rather of hopeful endings. Our lives are uncertain, but with hope and courage bitterness can be replaced by an appreciation for what is present."
—Dr. Timothy S. Hartshorne, Professor of Psychology, Central Michigan University, parent of a child with CHARGE syndrome
"Word artist Abdullah, through rich description and evocative detail, shares her characters' love story, how it develops and endures through conflict, chaos, and terrorism. The reader is invited to a new understanding and insight about the power of love that is present in countries and cultures different from our own western world. Abdullah pulls us into the lives of her characters, and we share their joy and pain. These exceptional characters live in our hearts and through our common human experience, contribute to our hopes for world peace. The extraordinary power of this book is not to be missed by the serious or casual reader, for it proves that we are all one in our most elemental human needs and emotions."
—Shirley M. Hord, PhD, Scholar Laureate, National Staff Development Council

"This stunning debut novel reveals what it means to be a Muslim in the United States. A book worthy to sit beside The Kite Runner and Reading Lolita in Tehran! Saffron Dreams captures the tone and emotions of the early twenty-first century, while leaving the reader much to think about in terms of what it means to be an American, what the future of America may be, and the hope that exists in future generations. Abdullah's writing offers a new and intriguing perspective on the American experience, one I hope to continue enjoying in future novels from her." Full review
—Tyler Tichelaar, PhD, author of The Marquette Trilogy

"Saffron Dreams is a literary masterpiece that lifts the spirit and twists the heart. It is apt that the tragedy of 9/11 is seen through the eyes of a Muslim woman. The language is exquisite and fresh. The heroine, Pakistani woman Arissa, is so real and alive that at first I thought the novel to be an autobiography. The intertwining of Pakistani and American culture shows the reader that, wherever they come from, people are just people."
—Bob Rich, PhD, editor for Loving Healing Press

"Saffron Dreams—besides being a powerful and compelling story of love and loss—captures that fine dance between cultural diversity and common humanity, the complicated steps of which we are all trying to learn."
—Jo Virgil, Vice-President of the Writers' League of Texas and a Community Relations Manager for Barnes & Noble
"A tender, erotic, and poignant novel. It weaves the clashes of self, family, culture, and country into a tapestry in which soul-searing loss is a recurring, multicolored thread."
—Loren Woodson, author of The Passion of Maryam
"Saffron Dreams is a chiaroscuro study in which Arissa, a Muslim woman living in the U.S., struggles to fulfill her dreams regardless of how the world violently reshapes them through the September 11th tragedy. Most importantly, this story is about the healing power of love that arrives in surprising shapes and tones.
—Diane J. Hernandez, 2007 President, Writers' League of Texas
"Timely, poignant and heartrending, Saffron Dreams captures the essence of a Pakistani woman's life after the throws of 9/11 when her husband dies in the tower destruction.  Racial tension and disturbing displacement prevail as Shaila Abdullah weaves a plot that is so real the reader will feel every sentiment and relate to the mixed emotions. Yet, in the end we come to peace in discovering there is hope and choice if we persist in finding it. A fictional novel that reads like a memoir, Saffron Dreams gives us confirmation that with freedom within, goals can be attained, and life goes on regardless of setbacks and challenges."
—Irene Watson, author of The Sitting Swing: Finding Wisdom to Know the Difference
"A magical written work that skillfully blends illusion with reality while provoking one's senses through memorable images and vivid descriptions of Arissa's multi-dimensional and passionate world.
—Leslee Tessmann, author of Sacred Grief: Exploring a New Dimension to Grief 

Book Description
Excerpt