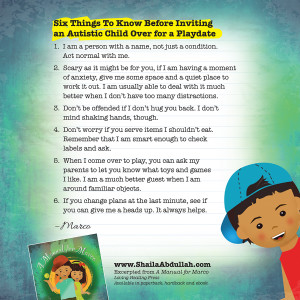 I am a person with a name, not just a condition. Act normal with me.
Scary as it might be for you, if I am having a moment of anxiety, give me some space and a quiet place to work it out. I am usually able to deal with it much better when I don't have too many distractions.
Don't be offended if I don't hug you back. I don't mind shaking hands, though.
Don't worry if you serve items I shouldn't eat. Remember that I am smart enough to check labels and ask.
When I come over to play, you can ask my parents to let you know what toys and games I like. I am a much better guest when I am around familiar objects.
If you change plans at the last minute, see if you can give me a heads up. It always helps.
– Marco
www.ShailaAbdullah.com
Excerpted from A Manual for Marco
Loving Healing Press
Available in paperback, hardback and ebook